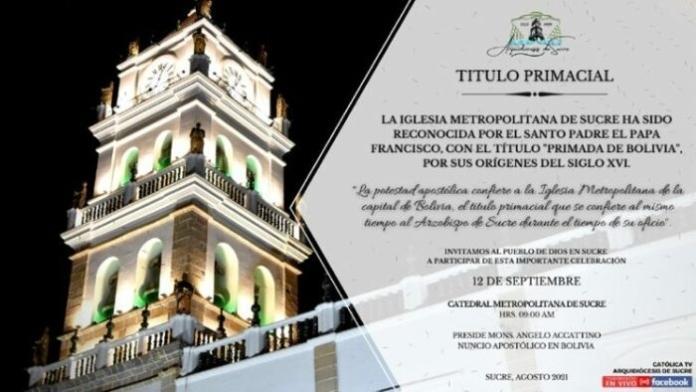 Archbishop Ricardo Centellas of Sucre said that this historic recognition is fundamental for the journey of the Church in Bolivia.
Bolivia – Sucre (August 29, 2021 12:56 PM, Gaudium Press) Pope Francis has granted the Archdiocese and Metropolitan Cathedral of Sucre the title of Primate Seat of Bolivia. Although the bull recognizing the Archbishop of Sucre as primate was issued on February 11, 2021, it was not until August 23 that the Archbishop released the news to the faithful.
The Metropolitan Cathedral of Sucre was founded in the 16th century
The decree, signed by Cardinal Pietro Parolin, Vatican secretary of state, and Cardinal Marc Ouellet, prefect of the Congregation for Bishops, recalls the origins of the Church, founded in the 16th century, and highlights how the Vatican decided to accept the petition of the Bolivian bishops.
"With our apostolic power we confer the primatial title to the Metropolitan Church of Sucre, a title that is conferred at the same time to the Metropolitan Archbishop during his office, according to canon 438 of the Code of Canon Law," says the text of the document.
Fundamental historical recognition
A Mass of thanksgiving is scheduled to be celebrated on September 12 in the Metropolitan Cathedral of Sucre. During this Eucharistic celebration, which will be attended by the archdiocesan clergy, religious and faithful, the Apostolic Nuncio in Bolivia, Archbishop Angelo Accattino, will read and deliver the papal bull.
Through a video message, the Archbishop of Sucre, Mons Rev. Ricardo Centellas, stated that this "historic recognition is fundamental for the journey of the Church in Bolivia, since it demonstrates that the Pope is in communion with the Bolivian Church and motivates us in Sucre to continue working for a strong Church, a Church committed to evangelization, mission and solidarity, which encourages the synodal spirit at all times. (EPC)